Dah lama rasanya saya tidak memanjakan diri di spa. Asyik sibuk dengan kerja seharian je, apa salahnya sesekali memanjakan diri dengan bayaran pakej yang murah dan berbaloi. Kali ini saya memilih pakej RM55 yang ditawarkan oleh Jari Spa. Tengok lokasinya di Wangsa Maju je, dekat je dengan rumah saya ni, jadinya wajib terjahh!!!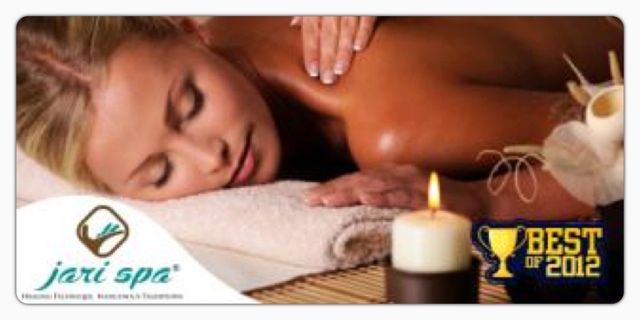 Bila hujung tahun, cuti yang masih berbaki perlu dihabiskan kan. Nanti rugi je kalau tak digunakan. Setakat ini cuti saya masih ada 7 hari hari untuk dibawa ke tahun hadapan, yeay yeay!! Setiap tahun entitlement untuk cuti tahunan ialah 20 hari je, je??? Pada saya banyak sangat dah tu kalau dibandingkan dengan keje sebelum ni which is 14 hari sahaja setahun.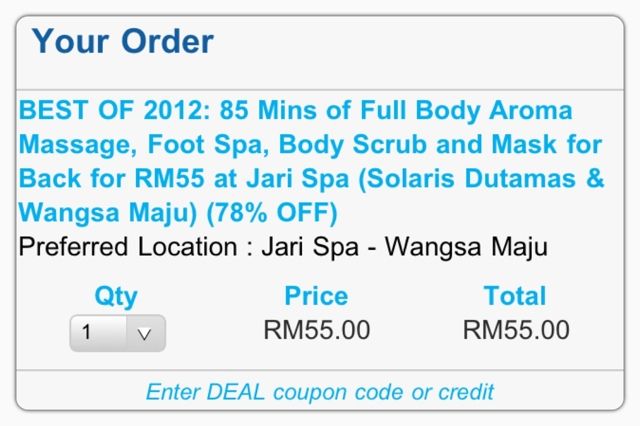 Tengok gambar dalam spa ni nampak cantik dan menarik. Emm tak sabar nak redeem ;). Saya baru je beli voucher ni semalam di mydeal.com.my. Antara treatment yang ditawarkan dalam pakej RM55 selama 85 minit ini ialah:-
• Full Body Aroma Massage
• Relaxing Foot Spa
• Green Tea / Peach Mango Body Scrub
• Mask for Back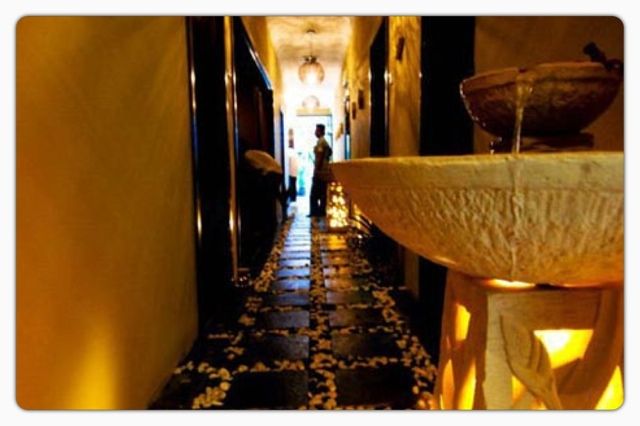 ~ Uses a special scrub that does not need to be washed off and functions as a scrub, lotion and mask simultaneously
~ Scrub contains cocoa butter, clay and essential oils
~ Traditional Balinese massage techniques used to sooth aching muscles and joints
~ Balinese concept spa that uses all-natural products and Pevonia Botanica products from U.S.A
Hmm menarik kan? Ada 2 lokasi Jari Spa ni, di Solaris Dutamas untuk male and female dan kalau di Wangsa Maju hanya untuk female sahaja. So husband and wife bolehlah buat treatment sama-sama di Solaris ye ;).
Saya bercadang nak redeem voucher ni pada minggu pertama tahun 2013 nanti insya allah. Ada yang nak join saya memanjakan diri di sana? Mohle 😉
Jangan lupa beli voucher di MYDEAL.com.my ye. Bukan sahaja menawarkan treatment di Spa, tetapi juga makanan, aksesori, barangan IT dan sebagainya. Segalanya mudah, Urusniaga beli voucher dan pembayaran hanya di hujung jari anda. Bila dah siap beli voucher online, nanti boleh call Spa untuk tetapkan appointment anda mengikut tempoh masa yang ditetapkan ;).
(5708)